WITH REAL-TIME 360° OBSTACLE DETECTION CAPACITY FOR ALL TYPES OF OBJECTS (INSULATING AND CONDUCTING), ELWAVE SYSTEMS ARE AN INNOVATIVE SOLUTION WHICH ALLOWS REMOTELY OPERATED OR AUTONOMOUS UNDERWATER VEHICLES TO SAFELY AND EFFICIENTLY OPERATE IN COMPLEX ENVIRONMENTS.
With an effective detection range of up to 5 times the length of the subsea vehicle, ELWAVE technology complements cameras and sonar (forward-looking sonar) for obstacle detection and navigation and allows ROV and AUV to operate efficiently in all kinds of environments:
Turbid water
Offshore infrastructure with restricted room for manoeuvre
Shallow water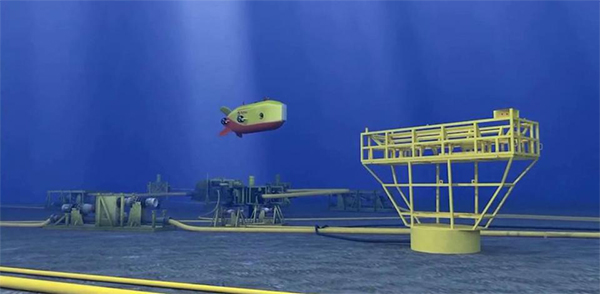 ELWAVE technology provides information to the ROV operator or the AUV navigation system on the presence or absence and the position of obstacles.
With its reactive navigation abilities, ELWAVE technology offers the following features:
Local mapping for ROV pilots (similar to assisted parking system for cars) giving a 360° view of the area surrounding the ROV;
Autonomous navigation functions for AUVs: obstacle avoidance, wall monitoring (offshore infrastructure, hydroelectric barrages, etc.)
The ELWAVE systems are adapted for different types of ROV and AUV and can operate at any depth (from coastal zones to deep offshore zones).