ELWAVE IS THE WORLD'S FIRST AND ONLY COMPANY TO OFFER PRODUCTS AND SYSTEMS BASED ON INNOVATIVE "ELECTRIC SENSE" TECHNOLOGY.
Electric sense: biomimetics
ELWAVE develops solutions based on electrical sensory perception, known as "electric sense", developed since 2007 by the biorobotics research group in Mines-Telecom Atlantique Institute.
ELWAVE technology takes its inspiration from the sensory mode used by tropical freshwater fish (African mormyrids and South American gymnotiforms), which have developed electrical sensory perception in order to move around, capture their prey and communicate with each other in an environment where vision and sonar (acoustic communication – echolocation) are ineffective.
Electrical sensory perception is based on sensing disturbances produced by the environment in an electric field generated by fish: these fish emit a 360° electric field around themselves which is disturbed by obstacles in their habitat, by other fish and by predators. The electro-receptor cells in their skin detect, measure and record these disturbances to create a three-dimensional image of their surroundings at any given moment.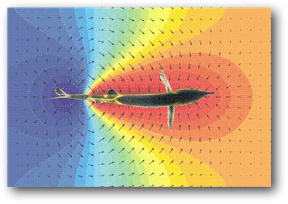 UNDISTURBED ELECTRIC FIELD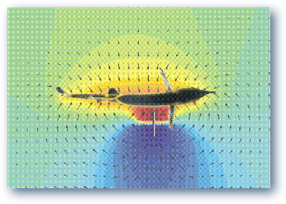 ELECTRIC FIELD DISTURBED BY AN OBJECT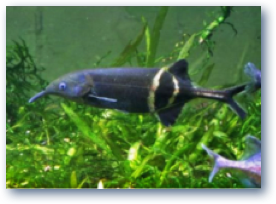 "ELEPHANTNOSE FISH" 
GNATHONEMUS PETERSII